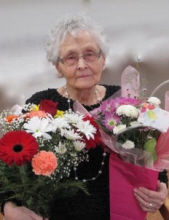 Obituary for Alma K. Knittig
The peaceful death of Mrs. Alma Knittig (nee Wourms), 94 years, of Wainwright, Alberta and formerly of Humboldt, Saskatchewan, occurred on February 27, 2017. Alma was born on January 18, 1923, the sixth out of thirteen children. Her family lived on a farm in Lake Lenore, Saskatchewan where Alma spent her childhood years. In 1941 Alma married George Knittig and they moved to Annaheim, Saskatchewan to begin their lives as farmers and raise a family that grew to six children. Upon retirement from the farm, Alma and George moved to Humboldt, Saskatchewan with their two youngest children. After George's death in 2001, Alma moved to Edgerton, Alberta where she lived with her daughter for eight years. Her next move was to the Battle River Lodge in Wainwright, Alberta where Alma made many friends and entertained her fellow residents with her talents as a piano player. After five years, Alma required a higher level of care so she relocated to Points West Living in Wainwright, Alberta, where she resided until she passed. Alma's caring nature, sense of humour, feisty spirit and music talents will be greatly missed by all who knew her and loved her.

Alma is survived by: her daughter, JANETTE Eckl and her family, Rhonda (Gord) Kohut and their son, Quinn (Brittany Goods), Bruce, JB (Katie) and their sons, Sammy J and Gabe; Alma's son, RON, and his sons, Carson (Helena) and their daughters, Ava and Brayden, James (Allison) and their family, Hannah, Doan and Eve, Blake (Danea) and their family, Thea and Finn; Alma's daughter, ELLEN Charko and her family, Lori (Fernando) Figueroa and their daughter, Tika, Bonnie (Todd) Thomas and their family, Cassidy and Brody, Dean (Lori) and their family, Kaleb, Emma and Josh; Alma's daughter BRENDA (Don) Redhead and their family, Jill (Raymond) Jackson and their children, Reese and Kamryn, Daniel (Lisa) and their children, Avery, Dylan and Chloe, David; Alma's son, STAN (Sandy) and their son, Dustin (Mariko Morohashi); Alma's brothers, Cyril Walker, Joe Walker; and her sisters, Mae Knittig and Jane Novecosky; as well as numerous nieces, nephews and friends.

Alma was predeceased by her parents, Joseph and Marie (Schulte) Wourms; husband, George; daughter, Donna Redhead; sons in law, Allen Eckl and Lawrence Charko; daughter in law, Lucille; sisters, Ida Bobinski, Martha Puetz, Aurellia Kolbeck; and brothers, Henry Wourms, Herman Wesling, Alex Wesling, Dennis Walker and Daniel Walker.

A Celebration of Alma's life will take place in Humboldt, Saskatchewan at a later date this year. Following the service, Alma will be interred next to her husband, George, at St. Augustine Cemetery, Humboldt, Saskatchewan.

If friends so desire, memorial donations will be gratefully received at Alzheimer Society of Canada,
20 Eglinton Ave. W., Ste. 1600, Toronto, ON M4R 1K8.