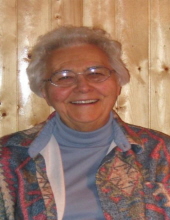 Obituary for Dorothy Schenstead
On Tuesday, April 12, 2016 Dorothy Zillah (Coe) Schenstead, of St. Walburg, Saskatchewan passed away at the age of 86.

A Celebration of Life Service will be held on Monday, April 18, 2016 at 2:00 pm from the Turtle Lake Mission, near Livelong, Saskatchewan.

Dorothy was predeceased by her husband Carl (Slim), 2 brothers David and Robert (Bob), granddaughter Cassandra McKeen and great-granddaughter Theresa Schenstead.

Dorothy is survived by her children, Gerry (Mike) McKeen, Laurel (Doug) Smith, Lyn (Bill) Cosh, Eric (Marlene) Schenstead, Charmaine Schenstead, and Michelle (Richard) Harris.

Her grandchildren, Yvonne (Bart) Cosh, Danielle Nichol (Dan), Terri Hutz (Dan), Michel (Caila)Schenstead, Mark (Twyla) McKeen, Rebeccah (Chad) McFarland, Tasha (Matt) Loewen, Andrew (Rebekah) Smith, Matthew(Melissa) Smith, Leif Schenstead-Harris, Geoffrey Smith (Alexa), David Smith , Chris Tinga, Julia Harris, Aliona Harris (Chris).

Her Great-Grandchildren: Logan (Maddie)Cosh, Morgan Nichol (Rhodena), Jennifer (Philip) Retzlaff, Connor Nichol (Katelyn), Jessica Hutz, Stephanie Hutz, Austyn Schenstead, Abby Schenstead, Brayden Schenstead, Seth Loewen, Lachlan McFarland, Bohdy Schenstead, Cohen McKeen, Christchian Harris, Cazda Schenstead, Hannah Smith, Scarlett McKeen, Caiden Harris, Leroy Smith, and Connor Smith.
Her Sister-In-Law Mrs. Sheila Coe of Fort McLeod, Paul (Val) Coe, LeeAnne Harbin, Rob (Kyla) Coe, Christopher Coe, Sandy & Ben Hann, and their families, as well as nephew Garry (Gloria) Schenstead.

Donations in Dorothy's memory may be made to the Turtle Lake Mission Building Fund, Pleasantview Bible Camp or a charity of your choice.