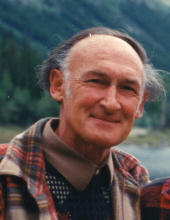 Obituary for Dr. Alfred Ernest Blitz
Dr. Alfred Ernest Blitz, 88, passed away peacefully in his sleep Saturday, Oct. 21, 2017, at the Lloydminster Hospital. He was born Sept. 29, 1929, to Richard Isaac and Sarah (Shinwell) Blitz in Glasgow, Scotland, the youngest of two children.

Alfred graduated first as a radiology technician and then as a doctor from the University of Glasgow in 1957 and worked at the Glasgow Royal Infirmary, where he met his wife Brigitte Mathilde Nitsche. The two moved to Lloydminster, Saskatchewan, Canada, in 1966, where he built a thriving medical practice and lived the rest of his days. His family remembers him as a loving and hard-working father and husband who was happiest helping families birth their children, puttering around the house making improvements, and relaxing reading Star Trek books.

Alfred is survived by his wife, Brigitte; son, Richard Ernest; daughter, Stephanie Jacy; niece, Valerie Samburg; and grand-nieces Laura and Ilana Samberg. He was predeceased by his parents and his brother Rosslyn.

An informal remembrance luncheon will be held on Friday, Oct. 27, at The Steels Cafe and Grill, Royal Hotel, Lloydminser (5620 44 St, Lloydminster, AB ) from 2:00 - 4:00 p.m

In lieu of flowers, donations in remembrance may be made to the Parkinson Society or the Lloydminster SPCA.


Previous Events
Come and go luncheon
Steel's Cafe and Grill
5620 44 St
Lloydminster, AB T9V 0B6