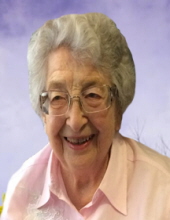 Obituary for Elisabeth Margaret Taylor
On Thursday, July 19, 2018 Margaret Taylor passed away in Vermilion Supportive Housing at the age of 96 years. Margaret will be forever loved and remembered by her Niece Betty (Dave) Schurman of Saskatoon; Nephews Jim Taylor of Red Deer, Don (Diane) McPhee of Sherwood Park and Tom McPhee of Vermilion; Great Nieces and Nephews Amanda Schurman, Jonathan Schurman (Laverne), Jason McPhee (Corinne), Jamie (Amy) McPhee, Ryan McPhee, John (Paty) Taylor, Mark Taylor (Giselle); as well as numerous extended family members.

Margaret was predeceased by her Parents J.Raymond and Elisabeth Taylor (Bury); Brother John (Agnes) Taylor; Sisters Barbara (George) McPhee and Dorothy (Ivor) Aune; Nephew Doug McPhee; and Niece Colleen McPhee.

A Funeral Service will be held at 1:00 p.m. on Tuesday, July 31, 2018 at St. Saviour's Anglican Church, Vermilion.

If so desired donation's in memory of Margaret may be made to St. Saviour's Anglican Church, Vermilion Heritage Museum or charity of choice.

Eulogy for Elisabeth Margaret Taylor

My name is Don McPhee and I am a nephew to Aunty Peg. She was the last of her generation alive in Canada, with one remaining first cousin, Joyce Peel, alive at 99 in England. In preparing for this day, we had a number of conversations on what should be contained in her eulogy. Keep it short and simple were her instructions and she provided many of the words that follow.
Elisabeth Margaret Taylor was born in her Aunt Grace's house in Vermilion on July 27, 1921, the fourth child and third daughter of Elisabeth and Raymond Taylor. She was raised on the Taylor homestead in the Chatsworth district until the family moved into rented houses in Vermilion in 1927. Her father bought the Pilkie house in 1928 and the family moved into it. The house stayed in the family and she eventually returned to it and resided there until 2012.
She took her schooling in Vermilion and at the University of Alberta. By profession she was a school teacher and a bank clerk. Her last employment was 19 years at Lakeland College as an instructor in English, Business Math and related subjects. She retired in 1983.
She was in every respect a remarkable woman. She had a formidable memory and could accurately remember all the significant events in her immediate family as well as birthdays, marriages, offspring, deaths of most of her extended family in England. In her personal life she was a loving daughter and sister, inspiring teacher, care-giver, family gatherer, aunt, cousin, friend, neighbor, poet, explorer, photographer and historian to name but a few.
Family was very important to Aunty Peg. When we were growing up, every Sunday the Taylor and McPhee clans would gather at the Pilkie house. There were always mountains of dishes to be done and all children were pressed into service for clean up. This would be followed with cards and sometimes board games for entertainment. Later as adults, we came back whenever we could but especially at Easter, Thanksgiving and Christmas.
Family gatherings would be extensively recorded in photographs. All members present would be assembled and Aunty Peg would take pictures of the event, followed immediately by her sister, my mother, Barbara. This activity would take some time to complete and her brother John would usually tease her saying "there goes Aunty Peg spoiling the day again!"
She also maintained contact with her extended family in England and traveled there a number of times throughout the years 1949 to 1983. She also traveled to China and made return trips to Palm Springs when her sister Dorothy and husband Ivor Aune wintered there.
She had a knack for poetry, although she was never published. An example was "The School Ma'am" written in 1952:
She's really not bad looking, she dresses rather well.
It's not her school-ma'am manner; it's by her speech you tell.
It's "Shall you go tomorrow?" and "Will he come today?"
If she were he, she'd never say "can" instead of "may".
Her disposition's charming; she's neither loud nor shy.
But who, except a school ma'am would answer, "It is I"?
Her one great fatal error is one you may suspect.
She says no phrase that isn't grammatically correct.
So she's a lonely school-ma'am from dawn to set of sun,
She's stigmatized as "teacher" so doesn't have much fun.
The moral of this story is not so hard to find;
Forget about your grammar when out amongst mankind.
Aunty Peg's spiritual support came from her church and she was an active member of St. Saviours Anglican Church. On many occasions we would be pressed into service to deliver pies she made to the Anglican booth at the Vermilion Fair where she also volunteered. She was an active member of the Anglican Church Women. But she broke her hip and wrist in 2010 which left her lame. Thereafter, she appreciated the help given to her by George Hilton when she attended church. But advancing age and limited mobility eventually made regular trips to the church too difficult for her.
Aunty Peg enjoyed working in her garden. But she had a "live and let live" philosophy regarding dandelions in her lawn – much to the concern of her neighbors! She was always grateful for the help given her by her neighbor John Jorgensen and her faithful gardener and snow shoveller Glen Teasdale.
In September 2012 a vehicle crashed into her house rendering it uninhabitable. She was especially grateful to her friend Lyla Porter who, she said, "put her up and put up with her" when she was temporarily homeless until she could get a room in the Vermilion Valley Lodge.
When she gave up driving, she appreciated the assistance and courtesy of her taxi drivers – especially Pete Sack and George Garnett. In 2013 she penned a poetic tribute directed at Pete Sack, but it would likely apply to all her taxi drivers:
I wait with my walker for taxi man Pete.
He drives with precision quite close to my feet.
If he came too close, he would sure rue the day,
'Cause it wouldn't look good on his job resumé!
Advancing age took its toll on her hearing but not the veracity of her mind. Her niece Betty and husband Dave from Saskatoon were fortunate to visit her on July 18, the day before she passed. Betty asked "do you know the significance of today Aunty Peggy?" "Yes" she replied, "it's your Mom and Dad's wedding anniversary. It's also one year to the day since I've moved down here." With her need for more care, she had moved from the "independent" area to the "assisted living" area of the Lodge the year before.
We all miss her indomitable spirit and cheerful outlook on life. We love you and miss you and are better people for having had you in our lives. God bless you and keep you as you rest in peace.


Previous Events
Service
St. Saviours Anglican Church
5212- 51 Avenue,
VERMILION, AB T9X 1V1