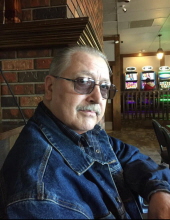 Obituary for Ervin William Ermantrout
Ervin William Ermantrout was born September 26, 1954 to Florian and Madeline (nee Scherger) Ermantrout in Holden, Alberta. Ervin was born the third child in a family of nine. He married Marilyn Bethune, of Wainwright, at 17 years of age and to this union came three beautiful children. Ervin's work of choice was the oilfield, he enjoyed everything from the rigs to the well operating in the industry. He was passionately interested in his hobby of collecting model cars and has a collection to be proud of. When Ervin fell on hard times with his health, he remained steadfast and strong in spirit and was always ready to welcome his coffee friends to his living room for a good visit. He was always encouraged by the love and support of his dear friends through the years. Even though work and hobbies were a huge part of Ervin, he will be remembered as a loyal and devoted husband, father, grandpa, brother, and friend. After 46 years of marriage and at the young age of 63 years, Ervin passed away at Wainwright Health Centre on Thursday, August 30, 2018. He will be lovingly remembered and dearly missed by his wife, Marilyn; three children and their families: STACEY (JOSH ST. GERMAINE) ERMANTROUT and Stacey's children, Brandon (Payten) and three children (three great-grandchildren to Ervin), Brianne, Arayah & Daryn; Keisha (Randall) and two children (two more great-grandchildren to Ervin), Kennah & Haedyn, Kassidy, (two step grandchildren to Ervin) Nicholi and Phoenix St. Germaine; COREY ERMANTROUT and his three children, Danon, Brianna & Allyann; and MINDY (AARON) PETERSON and their three children, Skylar, Cameron & Allaina. Also remembering Ervin are his siblings: Vern (Ruth) Ermantrout, Clarence (Karen) Ermantrout, Darlene (Fred) Ermantrout, Deanna (Travis) Drover Leslie Ermantrout and Randy Lambert; sisters and brothers in law, Valerie (Lachlan) Bethune, Colleen (Fred) Stamper and Shelley Lalande; as well as many nieces, nephews, friends and neighbours.
Ervin was predeceased by his parents, Florian & Madeline; parents in law, Allan & Arnhild Bethune; great-granddaughter, Cambria Rose; sister, Dorienna; brother, Leonard; sister in law, Bonnie; and most recently, loyal fur-friend, China.
A Funeral Service will take place Friday, September 14, 2018, at 12:00 p.m. from the upstairs hall of the Wainwright Elk's Hall.
If friends so desire, memorial donations would be gratefully accepted by Cross Cancer Institute, Edmonton, Alberta.


Previous Events
Service
Wainwright Elk's Hall
1401 - 1 Avenue
WAINWRIGHT, AB
Memorial Contribution