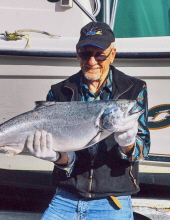 Obituary for George Robert Jackson
On Sunday, September 9, 2018, Mr. George R. Jackson of Czar, Alberta passed away peacefully at Wainwright Health Centre at the age of 81 years.
George is remembered by his wife, Lavonne (nee Lapierre) of 24 years, Czar, Alberta; daughter, Megan (David) Pasiechyk, of Sherwood Park, Alberta; son, Charlie (Romina) Jackson of San Cruz, Boliva; brothers, Gerry (Gail) Jackson of Claresholm, Alberta and Ian (Judy) Jackson of Calgary, Alberta; sister, Cathie (Steve) Belenky of Calgary, Alberta as well as numerous extended family and good friends.
George is predeceased by his father, Walter; mother, Margaret; step- mother, Wynne; sister, Gaye and brother, Jim.
A memorial service for the late Mr. George Jackson will be held a later date; more information to come as it is made available.

If friends so desire, in lieu of flowers, George's family suggests any memorial contributions be made to a local charity of the donor's choice.



Do not stand at my grave and weep,
I am not there, I do not sleep.
I am a thousand winds that blow,
I am the diamond's glint on snow.
I am the sun on ripened grain,
I am the gentle Autumn rain.
When you wake in the morning hush,
I am the sweet uplifting rush-
Of quiet birds in circle flight.
I am the stars that shine at night.
Do not stand at my grave and cry,
I am not there, I did not die.