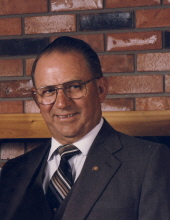 Obituary for Howard Leland Johnson
Howard Leland Johnson was born July 10, 1920 in Spangle, Washington, USA to William and Katherine Johnson. He was born the third of four children and shortly after he was born the family moved to Alberta, Canada. Howard was raised in the Passchendale district and educated at the Passchendale School. When Howard was 25 years old he married Florence Roland and born to them were three sons; Keith (1947), David (1950) and Jim (1960).

Howard began farming with his father and in 1947 his father retired to Chilliwack, B.C. Howard was a very successful farmer, always taking advantage of new technology and innovation. He started growing pedigreed seed in 1947 and continued to do so until 1997 when he received 50 year acknowledgement from CSGA. He was instrumental in getting the seed plant established in Wainwright and another innovation was the introduction of aerial spraying to the area; particularly useful during the first influx of the Bertha Arm Worm.

In the late 50's Howard received his private pilots licence, a passion he held through his life. Just a few days prior to his death, he was quick to talk about a trip he made back from Brooks. He also received his USA Pilot Licence and used it consistently flying over the desert in southern Arizona during his and Florence's winters there. He owned a number of airplanes but his favorite was a little Yellow Piper, which could be spotted many summer evenings as he buzzed over the countryside. It had a mere 45hp engine so he never got too far fast. In later years, Jim received his pilots licence which allowed Howard to continue his passion to fly, even though he probably should not have been.

Another passion Howard enjoyed was his winters in Arizona with Florence. They loved the time they spent in the south and made many life-long friends in their time there. It was in 1975 when they built a new home in Wainwright and created many memories there. For many years Howard served his community by being active in local politics; sitting on Municipal Council from 1965 until 1980 and spending six of those years as Reeve. He also served as a Regional Rep. on The Association of M.D.'s and Counties. Howard was an active member of Elks Lodge and served in many executive positions including Exalted Ruler.

Howard moved into the Battle River Lodge in 2005, this is where he called home until October 2015. He then moved into the Wainwright Auxiliary; at both places he received great care. On Friday, October 14, 2016 Howard passed away peacefully in his sleep at the age of 96 years.

Howard is loved and remembered by his three children; Keith (Doris) Johnson of Wainwright, David (Lorna) Johnson of Sherwood Park, and Jim Johnson of Calgary; His nine grandchildren; Denise (Mark) Hughes of Wainwright, Andrea (Jamie) Walker of Lloydminster, Derek Johnson of Lethbridge, Fred (Leanne) Munn of Edmonton, Corinne (Kent) Kristensen of Edmonton, Chris (Kim) Johnson of Sherwood Park, Jennifer (Cody) Coutre of Wainwright, Lisa (Tyler) Dicker of Wainwright, and Jesse Johnson of Wainwright as well as thirteen great grandchildren and one sister-in-law, Phyllis Roland.

Howard was predeceased by his wife Florence, his parents; William and Katherine Johnson, two sisters; Doris Dixon and Martha Johnson and one brother; Maurice Johnson.

If so desired, Memorial Contributions may be made to the Wainwright Cemetery Fund or to the charity of the donor's choice.


Previous Events
Service
Grace United Church Wainwright
1038 4th Avenue
Wainwright, AB T9W 1H2
Cemetery Details
Location
Wainwright Cemetery
1018-2nd Avenue
wainwright, AB T9W 1R1
Memorial Contribution
Wainwright Cemetery Fund
118 10 Street
Wainwright, AB T9W 1P8
Mailing Address: Town of Wainwright 1018 2 Ave, Wainwright, AB T9W 1R1 or to Hand-Deliver: Town of Wainwright, Town Office, 1018 2 Ave, Wainwright, AB and Thorp's Value Drug Mart 306-10th Street