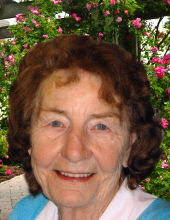 Obituary for Margaret Jean Bardoel
On Tuesday, March 1, 2022 Mrs Margaret Bardoel Passed Away in Vermilion at the age of 87 years.

Margaret will be forever loved and remembered by her
Daughter Janice Cusack; Grandchildren Mark Cusack, Derek (Amanda) Cusack, Cherene (Dallas) King, Landon (Melanie) Cusack, Shayne (Karlie) Cusack; Great Grandchildren Sidney, Wayde Cusack, Kade, Connor, Nash & Indy Cusack, Scarlet & Oliver King, Presley, Cooper and & Suttyn Cusack, Navy & Boone Cusack

Daughter Judy (Jim) Green; Grandchildren Jason (Trisha) Green, Jeanine Green, Jeffery (Jamie) Green;
Great Grandchildren James (Jamie) Green, Maddison, Parker & Braxton Green, Jethro, Jagger, Jerzie & Jorgia Green
Extended Family Marsha (Todd), Bailee, Kailee, Reed and Maddax;
Great Great Grandchildren Jackson & Kacey Green

Daughter Brenda Wyness; Grandchildren Garett Wyness, Melissa (Glen) Whittaker, Eric (Jen) Wyness,
Lyle Wyness; Great Grandchildren Shay, Abby, JD, Earl & Griffin Whittaker, Ila, Ethan, Chloe & Hailey Wyness,
Wyatt, Grace & Emily Wyness

Son Randy (Susan) Bardoel; Grandchildren Ryan Bardoel (Kim Mytz), Renee (Devon) Musgrove
Lacey Bardoel (Dustin Obrigewitch); Great Grandchildren Denae & Brock Obrigewitch, Payton Musgrove

Son Edward (Sherri) Bardoel; Grandchildren Sheralynn (Todd) Wester, Alexandra Yakish,
Stephanie Booth & Rodney Yakish; Great Grandchildren Nova & Ellie Wester

Son David (Karen) Bardoel; Grandchildren Nathan Bardoel (Shanna Bomhower), Brady Bardoel,
Desirae Bardoel (Matt Lafond), Jerrianne Bardoel (Luke D'Entremont), Allie Verhegge (Kalvin Wallace)
Great Grandchildren Layne, Lilly, Luka & Will

Grandchildren (Bernadette's Children)
Nicole (Brett) Mola, Dwayne (Amy) Pfeiffer; Great Grandchildren Sophie Mola & Rosalie Pfeiffer

Daughter Vicky (Murray) Throndson ; Grandchildren Trent (Carmen) Throndson,
Terra, Trista and Tanner Throndson; Great Grandchildren Bea & Chett Throndson

Son-in-law Tim (Sheila) Pfeiffer; Sisters Edna Page and Helen (Bev) Woods

Sisters-in-law Connie & Elsie Quickstad, Peggy Bardoel, Fay Bardoel & Evelyn Bardoel

Margaret was predeceased by her
Husband Gerard Bardoel; Parents Anton & Julia Quickstad; Daughter Bernadette Pfeiffer
Grandsons Leslie Bardoel and Jimmy Green; Son-in-law Alex Wyness
Sisters Bertha (Chester) Botting, Lila (Frank) Anderson, Elda (Eddie) Etherington
Emma (Wilmer) Sanders, Dorothy (Ron) Jeffery, Mabel (Bernie) Garnier
Brothers Arthur (Barb) Quickstad, Selmer Quickstad, Floyd Quickstad, Walter Quickstad,
Albert (Yvonne) Quickstad
Brothers-in-law Roy Page, Alphonse (Monica) Bardoel, Joe Bardoel, Louis Bardoel and Tony Bardoel

A Public Viewing for Margaret will be held on Tuesday, March 8, 2022 at
Creech's Lakeland Funeral Home, Vermilion from 5:00 to 8:00 p.m.
A Private Family Graveside Service will be held at St. Andrew's Catholic Cemetery on March 9, 2022

Donations in memory of Margaret may made to Friends of Vermilion Health Care (Long Term Care),
Alzheimer's Society or charity of your choice.


Previous Events
Come and Go Open House
Creech's Lakeland
4824-51 Street
Vermilion, AB T9X 1T6
A Public Viewing for Margaret will be held from 5:00 p.m. to 8:00 p.m. on Tuesday, March 8, 2022 at Creech's Lakeland Funeral home in Vermilion A Family Graveside Service will be held at St. Andrews Catholic Cemetery on Wednesday March 9, 2022.