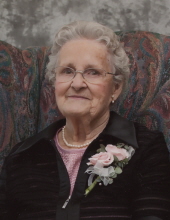 Obituary for Margaret Alberta Gibson
On Saturday, June 11, 2016 Mrs. Margaret Gibson of Vermilion passed away at the Vermilion Valley Lodge at the age of 95 years.
Margaret is loved and remembered by her
Daughter
Mary (Ron) Hemmingway of Grande Prairie
and their children
- Angela (Jim) Baron, and their children Adam (Fiance Linzy) Baron, Allen Baron, Kelsie Baron;
- Ray (Roxanne) Hemmingway and their children Tarryn Hemmingway, Tasmine Hemmingway,
Zackary Hemmingway

Daughter
Isabelle (Gary) Moses of Vermilion
and their children
- Tyler (Sharleen) Moses and their children: Derek Moses, Lauren Moses
- Kelli (Roland) Hryhirchuk and their children: Ryder Hryhirchuk, Brant Hryhirchuk
- Lacey (Gabriel) Benoit and their children Lara Benoit and Elyse Benoit

Son
Ernest (Judy) Gibson of Vermilion
and their children
- Laramy (Eric) Barr
- Ryan (Amanda) Gibson
and their son Hayes Gibson
- Jordan (Kristen) Gibson
and their daughter Sullivan Gibson

Daughter
Ruth (Nick) Westman of Vermilion
and their children
-Clarisa Westman
- Melora (Fiance Pat) Westman

She was predeceased by her
Husband : Frank Gibson; Grandson: Aaron Moses
Parents J.E. Wilson and Zilpha Ford;
Siblings: Annie Thomsen and Dan Ford.
A Funeral Service for Margaret will be held on Friday, June 17 at 3:30 p.m at First United Church, Vermilion, Alberta.


Previous Events
Service
First United Church
4918-52nd Avenue
VERMILION, AB T9X 1S6
Cemetery Details
Location
Vermilion Public Cemetery
Vermilion, AB