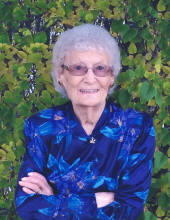 Obituary for Margaret Annie Caswell
Even though Margaret was 95 years old when she departed into eternity, we are deeply saddened as we thought we'd have her with us much longer. Margaret is lovingly remembered by her many nieces and nephews; sister in law, Grace; as well as friends and neighbors. She was predeceased by her parents, William & Elizabeth Symes; husband, Frank; sisters, Lillian & Olive; her brothers, Dick & Jack; brothers in law, Ernie & Ches; sister in-law, Joyce; niece, Evelyn; as well as numerous sisters & brothers in law of the Caswell family.

Aunts,
When aunts were created
They surely had in mind
How nice it is to have a friend
And relative combined.

That's why they have such warm hearts
And understanding ways,
A happy sense of humor
That brightens many days.

They're always patient listeners
And fun to be with, too
With a loving little knack
Of finding thoughtful things to do.

If so desired, memorial contributions would
be gratefully received by:
Wainwright Cemetery Fund
1018 - 2 Avenue, Wainwright, AB T9W 1R1
or
Wainwright Hospital Patient Care
c/o Wainwright Community Health Foundation
530 - 6 Avenue, Wainwright, AB T9W 1R6


A Funeral Service took place on Friday. April 6, 2018, 2:00 p.m. from the Grace United Church, Wainwright, Alberta with Reverend Anne Magrath officiating and interment following at Wainwright Cemetery.


Cemetery Details
Location
Wainwright Cemetery
1018-2nd Avenue
wainwright, AB T9W 1R1
Memorial Contribution
Wainwright Hospital - Patient Care c/o Community Health Foundation
530 - 6 Avenue
Wainwright, AB T9W 1R6