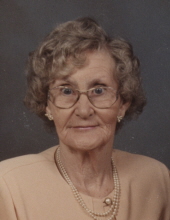 Obituary for Margaret Elizabeth Ponto
On Saturday, January 21, 2017 Margaret Elizabeth Ponto passed away peacefully with all her family surrounding her with love. Margaret is predeceased by and is now reunited with her Loving Husband Kenneth; Son Brian; Daughter Donna; Great-Grandson Connar; Parents Alex and Mary Jarvie; Brother Sunny; and Sisters Lottie and Nell. Margaret is survived by her Daughters Gail (Don) Hansen, Carol (Clay) Hnatiuk; Son David (Wanda) Ponto; Son-In-Law Wayne McGuire; 13 Grandchildren; 17 Great-Grandchildren; 1 soon to be Great-Great-Grandson; Brother James (Barb) Jarvie of Toronto, Ontario; as well as numerous nieces and nephews.

We her children, grandchildren, and great-grandchildren have all been blessed to have this special, wonderful, woman in our lives. We are all saddened by her death but knowing that she is reunited with all her loved ones gives us all peace of mind. Mom, Grandma and Great-Grandma WE ALL LOVE YOU! A Celebration of Margaret's Life will be held at a later date. If so desired donations may be made to the Pioneer Lodge Comfort Fund.

We the Family would like to thank Dr. Jon Van de Merwe, and Lloydminster Home Care for all the kindness and compassion you gave to Margaret throughout the years. A special thank you to all the 3rd floor nursing staff. You all treated Margaret with the utmost respect, and the care you gave to her was fabulous. To Pastor Paul for coming to the hospital, to Pioneer Lodge, even though her time there was short, thank you to each an everyone of you for welcoming her to her new home; she really enjoyed her time there. A special thank you to Creech's For all your kindness and support during this difficult time.