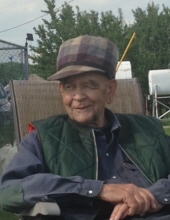 Obituary for Martin Nelson
Martin Nelson

Uncle Martin was born on January 14, 1930 on the home quarter with Mamie Van Camp acting as midwife and passed away on Wednesday, July 19th in Vermilion. The majority of his life was spent in the Marwayne area where he attended school at Tring, located 1 mile west of the Nelson family home. We have a few stories, about Uncle Martin, covering many years. As a 4 year old, he was kicked in the side of the head by a horse - Auntie Mae ran to the house to get Grandma Jean, who carried his unconscious body to the house. Mae was sent to the Van Camp neighbors to have them go into Marwayne & have Dr. Christie come to the farm. The Dr. didn't think Uncle Martin would live through the night & moving him to the hospital would surely kill him. He was unconscious for 2 or 3 days & paralyzed on the right side for 6 weeks. He learned to walk again by holding on to a toy wagon, which Auntie Mae pulled for him. This past June, one of his Vermilion nurses commented about his grumpy / sassy personality - she knew that he was a farmer & asked him what he had farmed - his response was "the land of course, what did ya think". While visiting him during the last month, I read the "Echos of Marwayne" history book & saw that the horse-kicking him story was included. I pointed it out to her - she was surprised that he had been able to walk again, let alone live to be 87 years old. That personality was catching.

As a young boy, during his school years, he helped with the haying, driving the tractor, and looking after the cattle and at 18, started working for other local farmers. In his early 20's he spent time in the bush falling & limbing trees near Sundre, AB where he was able to stay with his uncle Robert Nelson. While he was working at a saw mill in Slave Lake, AB, another accident happened - a tree fell the wrong way & hit him in the face, breaking his nose & teeth. He took the bus to the nearest hospital in High Prairie - he was so weak from the loss of blood and pain that upon arriving, he fainted in the arms of a nun! We know that he didn't even have Tylenol for the pain on that trip. Another Slave Lake story - during this last week in Vermilion; Uncle Martin had mentioned that he had lent his car to Dad (Jock) to take his driver's licence. We were well aware of how much he liked his trucks, especially new trucks, but, neither Dee nor I had ever heard him mention having a car. When the Englishmen, Ed Sparks, a friend of many years, came for a visit, I asked if he knew anything about Uncle Martin having a car. He certainly did have a car & was very particular about it too - Dad, Ed, & Uncle Martin had travelled together to Slave Lake one winter - the other 2 guys were allowed to have either the radio OR the heater on as having both would wear the battery down - Uncle Martin's car.......his rules. Speaking of the radio & music, during the last few months he had taken to singing "She will be driving 6 white horses"....I'm not sure if he thought of that song as a traditional folk song or maybe a work gang song he had remembered from being a young man. Also during this time when he wasn't farming or working in the camps he drove gravel trucks for a few local guys at both Kitscoty and Dewberry.
Uncle Martin stayed on the home quarter that Grandpa Nelson had purchased in 1927 - he (& Dad) raised cattle & grain farmed. He did like to travel in those new trucks - to Uncle Robert's in Sundre & also to see a friend from his youth, Myra, in southern AB. As a senior, he rented his land out but still had some animals in the house & yard - he had dogs for many years & also had a few cat characters......one orange female would follow him around the yard, tail straight up in the air (with her little ones tagging along behind making an interesting Congo line). There were also horses in the yard, or nearby that he would feed & care for even though he didn't like them much. He operated his truck & tractor well into his 80's - winter blizzards found him snow plowing the driveway & yard by 6:30 am, so that Dee could get to work on time (as she had moved into the yard in 2012), and a few buildings still show the marks from the grapple forks. His grocery shopping at the Lloyd mall / Superstore / COOP were always a lengthy experience....as Dee found out first hand....he knew A LOT of people & A LOT of people would still ask how he was these past few years.
We, his nieces, have childhood memories of Uncle Martin: teaching us how to color with crayons & felt pens; his love of heat.....in the house, in the tractor (he kept it so hot in the combine that Dee fell asleep on the brake), that he was the only one allowed to cut our hair until we were in school, or a few times when sitting in the restaurant having lunch – nothing made him happier if someone figured that one of us were his daughter. We also learnt that your vehicle was to be clean, even in later years you knew if Uncle Martin suggested going to town and him washing your vehicle that it was well past time that it needed to be washed, in his books.
The past 2 1/2 years he spent in Islay - after a fall & some broken ribs, he was moved to Vermilion, where he passed peacefully on Wednesday, July 19th. Many people have since mentioned how lucky he was that we were there for him during these last weeks, but NO, it is us that are beyond grateful to have had the past few weeks and years, with him.

It is our wish that he be interned in the Tring Cemetery with Auntie Mae, later this fall.

To The World You May Have Just Been Somebody,
But To Us You Were The World.
Thank You For The Time You Spent Here.






On Wednesday July 19, 2017 Mr. Martin Nelson, of Marwayne, passed away in the Vermilion Health Center at the age of 87 years. Martin will be remembered by his Nieces: Debbie (Barry) Kerr & family of Lloydminster, Donna Nelson of Saskatoon and Dee Nelson of Marwayne; Sister In-law Marie Beaudry of Lloydminster; and Brother In-Law Gary (Susan) Fairbairn & family of Laurier Lake. He was predeceased by his Parents Cornelias and Jean Nelson; Sister Mae Nelson; Brother Jock Nelson; and Sister In-Law Edie Nelson.

In keeping with Martin's wishes, cremation is in place at Creech's Crematorium in Vermilion and a Memorial Service at the Tring Cemetery will be held at a later date.

If so desired, donations in memory of Martin may be made to the Lloydminster & District SPCA (62 Ave and 67 Street Lloydminster, AB T0B 0L0), Tring or Marwayne Cemetery Funds.


On Uncle Martin's behalf, his family would like to thank the staff in Islay & Vermilion for the care & compassion shown to him these past years.