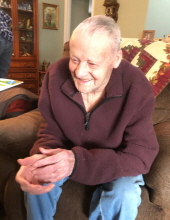 Obituary for Martin Van Lent
Martin was born in the Netherlands in 1930 into a very large family. He and his siblings were children during WW II and they lost their mother when he was 14 years old, both of which no doubt had an influence on his life. He immigrated to Canada in 1954 and worked on sugar beet farms in southern Alberta, and in 1956 he was joined by his soon to be wife, Annie. They were married 2 days after her arrival in Canada on December 26th. He loved his new country and always appreciated the opportunity for a better life. They spent the early years of their married life working on farms in southern Alberta and six of their eight children would be born there. They have very fond memories and formed lifelong friendships within the Dutch immigrant community during those years. Martin and Annie moved to Red Deer when their children were young to ensure their special needs daughter would receive the services she required. They eventually bought a farm and Martin worked in the livestock feed industry for years, while operating the small mixed farm with his family. The farm was also a good place to raise his family and especially for their special needs children.
Martin was very hardworking and provided well for his large family. He was a somewhat private man, very pragmatic and he appreciated simple things, especially animals and nature. He was a very caring father, but with a family of that size, no doubt everyone had to do as they were told! He always wanted the best for his family and supported education and travel and their independence into adult hood. In his retirement years he developed a woodworking hobby and tended to the menagerie of animals, both domestic and wild, on their farm, and remained supportive and close to his children. In 2018 Martin and Annie sold their farm and moved closer to family, living independently in Wainwright until his passing. Martin's family is very appreciative for all who loved and cared for Martin during his long life and to all the family, friends and community members who supported him, especially in his later years.

On Wednesday, February 16, 2022 Mr. Martin Van Lent of Wainwright, Alberta passed away at Wainwright hospital at the age of 91 years.
Martin is survived by his loving family; his wife, Annie Van Lent; his children, Reina Van Lent, Kenny Van Lent, Josie (Phil) Van Lent - Staden, Mary Ann Ven Lent, Diane (John) Nash, Gary Van Lent, Martin (Jeanotte) Van Lent, Karen Van Lent; grandchildren, Shannon (Kurt) Trefiak, Cale (Kaylyn) Staden, Sasha (Pat) Campbell, Kane (Brooke) Staden, Morgan Nash, Braxton Nash, Randy Van Lent; five great grandchildren; two brothers, Theo & Lambert Van Lent; sister, Willie Van Wolferen; sister in-law and close friend, Joe Van Lent; as well as numerous nieces, nephews, extended family and dear friends. He is predeceased by his parents, Sophia & Christiaan Van Lent; and ten brothers and sisters.
In keeping with Martin's wishes, no formal services will be held at this time. If so desired, the family suggests memorial contributions be made to the Special Olympics Alberta or to the Wainwright and District Community Health Foundation.


Memorial Contribution