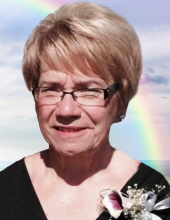 Obituary for Mary Scotton
Mary Rose Scotton passed peacefully April 4, 2022 in Maidstone, SK at the age of 77 years old.
Mary Rose was born to Russell and Margaret Krake April 15th, 1944 in Maymont, SK. Mary was the 4th of 6 children that grew up in the Ruddell, SK area.

Mary took her nursing training in Saskatoon and soon after moved to work in North Battleford where she met the love of her life George Scotton. George and Mary married in 1967 and eventually settled in the Paradise Hill SK to raise their two children.

Mary was very involved in her community volunteering on many boards and was always ready with a pot of coffee and homemade baking to any friend or neighbor who would stop in. Their friends and neighbor's were very important part of their life.

Mary spent most of her working career at the Onion Lakes Clinic and cherished all of her time there. The relationships that she made with her working Family meant so very much to her and she always kept in contact with them after her retirement. Mary and George both felt very blessed to live so close to their grandkids being an important part of Chase Sarah and Walker's lives and watching them grow up with the biggest Joy of their days.

Mary leaves to mourn her passing her son Jeffrey George; Daughter Lisa Scotton Zweifel and her children Chase Sarah (Lucas) Walker and their father Tal Zweifel; Mary's siblings Doreen Griffith, Russell (Aldean) Krake, Roy (Arlene) Krake, Eugene (Goldie) Krake; Brother-in-law's Buck (Ellyn)Scotton, Dick Scotton, Ralph (Marion) Lange; Sister-in-laws Helen Starnes, Nancy (Marcell) Stroo ; Many Nieces and Nephews and Great Nieces and Nephews.

Mary was predeceased by her loving husband George; Daughter-in-law Bambi Scotton; Parents Russell and Margaret Krake; Sister Margie Krake; Mother and Father-in-law Joseph and Georgina Scotton; Many friends and family.

A Celebration of life Come & Go tea for both Mary and George will be held at the Paradise Hill Community Center on June 4th between 2 and 4 p.m.