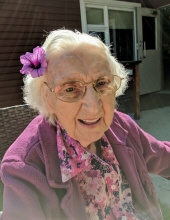 Obituary for Muriel Dorothy Waring
Muriel D Waring (September 28, 1920 - March 24, 2019).

Widow, mother, grandmother,great-grandmother and great-great grandmother.

I am more brokenhearted about my grandmas' death than I would have expected myself to be. I suppose it was naive of me to think because she was 98 years of age and it was very much her time to go that it would be less painful- it is not!!!

I was very close with my grandma up until recent years where her Alzheimer's and dementia took over. She was one of the strongest woman I have ever had the pleasure of knowing! She was tough and she knew it. She lived an incredibly full life - she lived through world war 2, married 4 times; losing one to the war, divorcing twice and losing grandpa Bill to cancer. Having 5 children, 2 of which are sadly not present today, 6 grandchildren, 13 great-grandchildren and 1 great-great grandchild.


She had all kinds of stories to tell and loved playing cribbage, she did crossword puzzles on a daily basis and price is right was a TV favorite. She wrote and published a book about her father and the genealogy of the Copelands'. She taught me lots of "old life lessons". Though some people may think of her as callous at times. I know she loved a great deal. She loved her children, her grandchildren and she loved her late husband very dearly. I know she would he happy to know that she will be next to her husband in the family cemetery.

We love you grandma.

In keeping with Muriel's wishes cremation has taken place and a family service will take place at a later date.