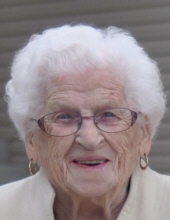 Obituary for Phyllis Ellen Craig
After an exceptionally active life of 102 years, Phyllis Ellen (Thurston, Crozier) Craig died peacefully at the Wainwright Continuing Care Centre. She leaves two daughters, Jean Crozier of Edmonton and Colleen Crozier of Wainwright; one son, Michael (Donna) Crozier of Edmonton; numerous grand children and great-grandchildren, nephews and nieces in Canada and the United States. Phyllis was predeceased by both her husbands, Max Crozier (1951), and Jim Craig (1994); her daughter Maureen Crozier (1989), great-granddaughter Lauren Watson (2013), as well as her three sisters (Mary Russell, Olive Pugh and Winnie Askin), and five brothers (Ted, Len, Ron, Leo, and Ivor Thurston).
Phyllis was born in Caentwell, a suburb of Cardiff, South Wales. She immigrated to Irma, Alberta in April of 1927, with her parents and seven siblings (an eighth was born in Canada); she graduated from Irma High School, attended Camrose Normal School for one year, then taught at Sunny Brae, a one-room schoolhouse, five miles east of Irma. Phyllis and Max raised their family in Edmonton. After his death, Phyllis returned to university, earned a Junior-E diploma, and resumed her teaching career at King Edward Park and Avonmore Schools. In 1959, she married Jim Craig and moved, with Colleen and Mike, to Jim's farm at Irma. At the school principal's urging, Phyllis returned to the classroom and taught kindergarten, then Grades 1, 4, and 8 in Irma, at the Albert School, and in Wainwright.
Phyllis was active in the Anglican Church Women and the Women's Institute; she was an integral member of the Irma local history committee and the Order of the Eastern Star; she spent hours volunteering for the Wainwright Battle River Historical Society. Phyllis sewed and embroidered, knitted and tatted and crocheted; she created stunningly beautiful wedding and special occasion cakes, and a meal at her home was always a feast. She travelled the world from the Arctic to the Antarctic, Asia and Russia, England and Wales and Europe. She made new friends everywhere and kept in touch with them by mail.
One of her granddaughters said it all: "We need to celebrate the fabulously bright, fun-loving, adventurous, caring, giving woman who was Gran. She will remain an inspiration."
A funeral service will be held at 1:00 p.m., Saturday, July 23, 2016 at St. Thomas Anglican Church, Wainwright. In lieu of flowers, donations will be gratefully accepted by the charity of your choice.


Previous Events
Service
St. Thomas Anglican Church
305 - 12 Street
WAINWRIGHT, AB T9W 1G7