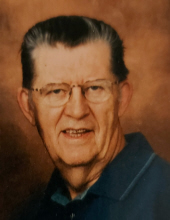 Obituary for Raymond George Hills
On Thursday, January 13, 2022, Mr. Raymond Hills of Wainwright, Alberta passed away at the age of 93 years
Our beloved Dad
Dad was humble, selfless and a man of few words as well as the ultimate procrastinator – he was always going to "get around to it".
This poem describes him the best (author unknown and amended a little by me)
He never looked for praises
He was never one to boast
He went on quietly working hard
For our family he loved so much
His dreams were seldom spoken
His wants were very few
His worries went unspoken
He was always there….a firm foundation
Through all our storms of life
A sturdy hand to hold onto
In times of stress and strife
A true friend we could always turn to
When times were good or bad
One of our greatest blessings
The man we knew --- Our Dad
Dad proudly served his country for over 41 years – joining the Army at the age of 19, serving 27 years active duty and another 14 years in the Civil Service.
When he finally retired, he and Mom built and operated Rubi's Ceramics for 27 years.
He always said his biggest accomplishment was surviving raising 5 kids!
His family always came first; not only when we were children but right through our adult lives – he and Mom put us first. We are truly fortunate to have had the amazing parents that we did.
Dad had a terrific and sarcastic sense of humor and often said that life should never be taken too seriously – rather seize the day and grab hold of every day like it is your last – one day it will be!
One time while we were playing cards, we were all joking about what our headstones would say and Dad's was "I finally got around to it". Being the procrastinator that he was; he was always saying "I will do that when I get around to it". Well, he did!
Rest easy Dad, you are finally at peace and back with the love of your life, our Mom
AT EASE SOLDIER!

Raymond is survived by his loving family; his children, Linda Hills of Wainwright, Larry Hills of Raymond, Alberta, Lauren Hills of Wainwright, Kim Amyotte of Edmonton, Alberta; grandchildren, Cheri, Nikki, Erik, Liam, Kyle, Shaelynn; great grandchildren, Paytton, Reegan, Johnathon, Keeley; and sister, Eileen Reine.
He is predeceased by his wife, Ruby in 2009; daughter, Lee-Ann in 2016; his parents, George & Gladys Hills; and sister, Fern Engler.


No formal services for Raymond will be held at this time.