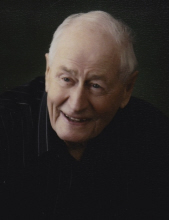 Obituary for Robin A. Huth
Robin A. Huth, 96, passed away June 05, 2017 after a short illness in the Wainwright Health Centre. Robin was predeceased by Dorothy, his wife of 69 years. He will be sadly missed and lovingly remembered by his family: children, Campbell (Marianne), Jim (Rae-Anne), and Nancy (Lance) Langford; grandchildren, Jim, Shaun, Cathy, Athena, Jelina, Amber, Chantelle, Forest, Michelle, Glen and Paul; many great-grandchildren; brother-in-law, George Laking; sister-in-law, Faye Young; nieces, nephews, cousins and a host of friends. He also will be missed greatly by his caregivers, Marion and Willy Kelch, with whom he resided for the past 8 years. He was predeceased by his parents, Merlin and Nancy Huth; his sister Jocelyn Laking; daughter-in-law, Karen Huth.
Born April 12, 1921, Robin spent his youth in Regina, Yorkton and Brandon. He joined the PPCLI in WWII and later became a member of the First Special Service Force stationed near Helena, Montana. This was a joint American-Canadian commando unit also known as the "Devil's Brigade." He married Dorothy Young of Calgary in 1943. After the War, Robin became an Alberta Forest Service Ranger stationed in Coalspur, Lynx Creek and Jumping Pound ranger stations. He played the role of a forest ranger in a 1950 National Film Board movie, "Water for the Prairies." Robin then joined the Calgary Police Force serving for five years. In 1955 he moved to Hinton where he was employed by North Western Pulp & Power Ltd. Starting out as a timber cruiser he soon became public relations manager. Later he moved to Edmonton where he was employee relations manager for Fibreglas Canada Ltd. He also taught classes at NAIT and Grant MacEwan College. He retired to reside in Nakusp on the shores of the Upper Arrow Lake and later moved to Salmon Arm, BC. During his long and adventuresome life, Robin was a prolific writer authoring four books on forestry as well as numerous articles for many magazines. An avid skier and mountain climber, he had an abiding love for the outdoors and concern for the welfare of all animals.
The family extends its gratitude for the kind and compassionate care provided by the medical staff at the Wainwright Health Centre.
A private celebration of life will be announced at a later date.

If desired, donations may be made directly to the Alberta SPCA
https://www.albertaspca.org or to the Salvation Army.