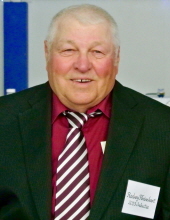 Obituary for Rodney Walter Rhinehart
On Monday, April 10, Mr. Rodney Rhinehart of Maidstone passed away at the Maidstone Hospital at the age of 73.

Rodney is survived by his Wife, Judy Rhinehart; Sons, Owen Rhinehart (Charline) and Dean Rhinehart (Raeann); Grandchildren, Justin Rhinehart (Cortney), Jenna Benkendorf (Garrett), and Travis Rhinehart (Megan), and Gabrielle Rhinehart; Great Grandchildren, Tori Rhinehart, Kaiden Benkendorf, Kaleb Benkendorf, Lucy Rhinehart, and Cooper Rhinehart; Brothers, Emerson Rhinehart (Barb) and Garry Rhinehart (Cheryl).

Rodney's life started on a little farm outside of Maidstone. This is where he went to school, rode horses, and began his hunting career. Rodney met the love of his life during his teenage years in Turtleford, SK and that is where it all began. Rodney and Judy got married in 1962 and the two have been inseparable ever since. In 1963 they had their first son, Owen and then Dean in 1967. They moved to Lake Lenore and Forgan for Rodney to be an elevator agent, but then settled in Maidstone in 1979. Rodney had a passion for driving a grader, which he showed in owning his own business in the later years of his life. Hunting was always a passion of Rodney's and he hunted all game from gophers to moose to geese. This passion led to countless hunts with his children and grandchildren that will be held dear in their hearts forever. Rodney's other passion in his life was sports, especially baseball and he truly excelled at it. In 2013 he was inducted into the Saskatchewan Baseball Hall of Fame for his outstanding batting ability. Anyone who played with him knew his ability and sportsmanship. Playing baseball and traveling the country were some of the best times in his life. The many people he met and played with during the years will miss him dearly.

Rodney's most prized possession in life was his family. He was always proud of his sons, grandchildren, and great grandchildren. He was always telling anyone who would listen what they were up to now. Rodney really enjoyed watching them in their sports careers and cheering them on from the stands.

Rodney Walter Rhinehart ................ For his family and close friends, we will never know a stronger willed man. Many, many times death knocked on his door and he slammed it shut. One thing about this, is it always made us appreciate Rodney and life and how quickly it could be over.

Rodney will forever be loved and missed by his family and friends.

A Celebration of Rodney's life will be held at the Legion Hall in Maidstone on Saturday, April 15, 2017 at 1:00 p.m.
Donations in memory of Rodney may be made to the Heart & Stroke Foundation or the charity of your choice.


Previous Events
Service
Maidstone Legion Hall
111 Mainstreet
Maidstone, SK S0M 1M0