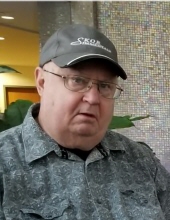 Obituary for Wayne Arnold Myggland
On Wednesday, April 27, 2022 Mr. Wayne Myggland passed away, at Wainwright Health Centre, Wainwright, Alberta, at the age of 76 years.
Wayne is survived by his loving family; sister, Wendy Myggland; sisters in law, Barbara Myggland, Darlene Myggland; niece, Alison (Adnan) Myggland; nephews, Michael (Angela) Myggland, Erik Myggland; great niece and nephew, Colton and Teila Myggland; Aunt Georgina Myggland; Uncle, Lorence (Donna) Myggland; dear friends, Rick (Anne) Kendall, Kim (Gina) Vetter, Leonard (Laura) Johnson, Ron (Marie) Mazure, Dorothy Shawley, Raymond Arntzen, Eileen Whiting; as well as numerous extended family.
He is predeceased by his parents, Edith & Arne Myggland; brothers, Neil Myggland, Russell Myggland; nephew Wayne Myggland.

No formal services will be held at this time.


Events
Event Information
No Formal Services To Be Held