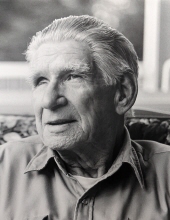 Obituary for William "Bill" Leslie Connors
On Thursday, February 10, 2022 Mr. William (Bill) Connors passed away peacefully in his sleep the Zion Park Manor, Surrey B.C. at the age of 95 years. Bill is Lovingly Remembered by His Sons Brent and Brian Connors; Daughter Lori Diggens (nee Connors); Son-in-law Rick Diggens; Daughter-in-laws Margie and Olivia Connors; Grandchildren Kenton and wife Sarah, Brandon and fiancé Eliza, Deanna and husband Robby, Julia and husband Omar, Caitlyn, Laura and Emerson; Great-grandchildren Levi, Carter, Sophie, Jack and Abigail; Brother Philip Layton Connors of Angmering-On-Sea, England; Sister Dorothy Anne Stebbe (nee Connors) of Lee Creek, B.C.

He was predeceased by his Wife Joan Maureen Connors (nee Simmonds), of Surrey, B.C.; Parents Emerson Leslie Connors of Canning, Nova Scotia, and Grace Lenora Connors of Kingsport, Nova Scotia.

A private family service is being held.